---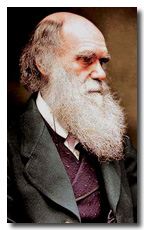 DARWIN ADMITS TO
DIRECTLY OPPOSITE CONCLUSIONS
"I am well aware that scarcely a single point is discussed in this volume on which facts cannot be adduced, often apparently leading to conclusions directly opposite to those at which I have arrived. A fair result can be obtained only by fully stating and balancing the facts and arguments on both sides of each question, and this cannot possibly be done here."
Charles Darwin
Introduction
On the Origin of Species
1859
"THEORY OF CONSERVATION"
MAY HELP EXPLAIN DARWIN'S DIRECTLY OPPOSITE CONCLUSIONS
It is not possible to fully state and balance the facts on both sides of each question in The Evolving Times, however, the conclusion that Charles Darwin could and probably should have come to is that natural processes exist that inhibit major evolutionary change from occurring on a gradual step-by-step basis.
One of those processes is Natural Selection itself.
In his book, Darwinism: The Refutation of a Myth, Soren Lovtrup points out that
"some critics turned against Darwin's teachings for religious reasons, but they were a minority; most of his opponents ... argued on a completely scientific basis."
He goes on to explain:
"...the reasons for rejecting Darwin's proposal were many, but first of all that many innovations cannot possibly come into existence through accumulation of many small steps, and even if they can, natural selection cannot accomplish it, because incipient and intermediate stages are not advantageous."
The bottom line is that natural selection acts to eliminate useless transitional and incipient stages from populations thus preventing major evolutionary change from occurring on a gradual step-by-step basis thus accounting for the natural phenomenon of stasis and the systematic gaps among higher taxa throughout the fossil record. A new Theory of Conservation based upon natural selection, population genetics, microbiology, and paleontology is expected to evolve and replace Darwinian theory over the next decade.
Daniel Dennett once described Darwin's theory of natural selection as a universal acid. The irony is that natural selection may have already eaten through Darwin's Origin of Species.
On The Origin of Stasis
by Means of Natural Selection
---
ARE THREE THEORIES OF BIOLOGY AND NATURAL HISTORY NEEDED?
Darwin's Theory of Evolution explains microevolution but it fails to explain the pervasive patterns of natural history and the fact that the disparity of the major body plans preceded Darwin's diversity of species.
In addition to Darwin's Theory of Microevolution, Biology needs a Theory of Mega-Evolution and a Theory of Conservation to explain what Stephen Jay Gould refers to as nature's "ordinary rules of stability."
."..we must understand that nothing happens most of the time -- and we don't because our stories don't admit this theme -- if we hope to grasp the dynamics of evolutionary change. (This sentence may sound contradictory, but it isn't. To know the reasons for infrequent change, one must understand the ordinary rules of stability.) The Burgess Shale teaches us that, for the history of basic anatomical designs, almost everything happened in the geological moment just before, and almost nothing in more than 500 million years since."

Gould, S. J. (1988),
"A Web of Tales"
Natural History, October, pp. 16-23
More to come.
CONFLICTS CONFIRMED BETWEEN DARWINIAN THEORY AND GEOLOGICAL SUCCESSION
Not only does Darwin's mechanism of natural selection act in a manner directly opposite to his evolutionary extrapolations, the pervasive pattern of natural history is also directly opposite to the fundamental predictions of neo-Darwinian theory.
The pervasive patterns of natural history closely resemble the patterns of emerging technologies. When we look at the evolution of the automobile or the evolution of computer software we find the same top-down pattern of appearance found in the history of life. Major new themes appear suddenly followed by variations on these pre-existing themes. The disparity of the major groups precedes the diversity of the variants. If this isn't directly opposite to Darwinian predictions, it is hard to imagine what is.
Conflicts Between Darwin
and Geological Succession
---
ARE "THEORIES" OF INTELLIGENT DESIGN AND UNINTELLIGENT DESIGN SCIENTIFIC?
Or are they actually forms of natual theology and natural atheology respectively? What is the difference between Darwin's Theory of Evolution and a biological Theory of Unintelligent Design?
"Directed by all-powerful selection, chance becomes a sort of providence, which, under the cover of atheism, is not named but which is secretly worshipped."

Grasse, Pierre-Paul (1977)
Evolution of Living Organisms, p. 107
Academic Press, New York, N.Y.
More to come.
---
IS EVOLUTION THE ULTIMATE EXAMPLE OF FINE-TUNING?
Evolution is biology's way of pointing back to a beginning: first to the beginning of life, then to the beginning of everything else. Biology requires Chemistry which requires Physics which required a Creator and Natural Law Giver. In short, the creation of everything was necessary for the evolution of anything.
Scientists acknowledge that in order to sustain complex life, the universe had to be extaordinarily fine-tuned.
Could it have been so finely-tuned that the information required for origin of life in all of its disparity and diversity could have been front-loaded into the initial conditions of the Cosmos?
Ironically, many theists don't believe it either was or could have been, while atheists believe that pure chance - chance all the way down - was sufficient. (Note: If nature was generated randomly then natural selection for the atheist must be a randomly generated filter. It is thus chance all the way down.)
Did Darwin make it possible to be an intellectually credulous atheist?
More to come.
---
SCIENTISTS OFFER
THEIR INSIGHTS
Numerous scientists offer their insights on the evolving times. "You may quote me," offered one professor of paleontology. "Just be sure to cite the complete reference to my work so that others may be assured that I am not taken out of context."
---
Copyright 2014 The Evolving Times
"From the Big Bang to Biology"
Teach the Context - Avoid the Controversy
---